The #1 Christmas Tradition for Families Who Love to Read

Our oldest boys were two and three when we celebrated our first Christmas together as a new family. We didn't want to lose any more time in starting traditions that we would grow to treasure for a lifetime of Christmases to come. And yet, any new tradition that we added into the already hectic holiday season needed to be simple, feel meaningful, and bring calm into the chaos.
How We Discovered the #1 Christmas Tradition for Families Who Love to Read
Perhaps my most beloved Christmas memories from my growing up years are of my dad reading heartwarming holiday stories to our family as we all gathered around the cozy, crackling fire in our living room. Usually, this Reading of the Story would take place on Christmas Eve.
But all throughout December, a generous stack of Christmas stories sat nearby, and it seems as though my brothers, sisters, and I spent hours every Christmas season curled up devouring story after story. Mostly we read from Joe Wheeler's treasured Christmas in My Heart series, books which were (and still are) among our most beloved story collections.
Another beloved Christmas memory from my childhood is that some years we were allowed to start opening a small gift or two in the evenings for a few days leading up to Christmas Day. This certainly didn't happen every, or even most, Christmases, but it made enough of an impression on me that it still lights a flicker of joy in my heart when I think back on that wonderful time in my childhood.
Since my toddler boys lit up like Christmas trees at the sight of new storybooks, we soon settled on a meaningful tradition for our book-loving family. A Storybook Countdown to Christmas isn't original to us. Yet, it feels custom-tailored for our family: knitting together two favorite Christmas memories from my childhood into one lovely tradition that perfectly fits our family. I've got a hunch that when you try it on for size, you'll find it's ideal for your family, too!
The first year that we did a Read Aloud Countdown to Christmas, we owned only a couple of Christmas-themed books. So that year, most of our books came from our local library. I purchased a couple of new books that year, and I have slowly added more to our Christmas book collection ever since. I still make up the balance with books from the library. I've purchased used from eBay, Amazon, new and used, and thrift stores.
Want to start this fun tradition? Here are 7 things to know
Make this tradition even more fun by snacking on some delicious Christmas cookies while you read! Here's a yummy recipe you'll love: Easy Candy Cane Whipped Shortbread Cookies
Be kind to your budget. You don't have to run out and buy a bunch of new books this year! Make use of your local library, and maybe add a few newly purchased ones to your collection as your budget allows (if you have grandparents or other family members who want ideas of what to gift your children, this would be a great idea to mention!).
Say no to a wrapping marathon. You don't need to wrap 25 books in one sitting. I usually wrap a few at a time, and I try and reuse the wrapping paper as much as possible during the next wrapping session because it's already cut, and it's a lot less waste.
Stay flexible. Keep the tradition as a fun guide, not a strict rule– don't feel you absolutely have to read a book every night. Sometimes, your evenings will be too full, and everyone just needs to go straight to bed. And that's just fine. Maybe you can open two the next time!
Keep it fun for everyone. Choose books that will be interesting to your whole family as one of the main goals for this tradition is to have something to enjoy together. If you have multiple children, it's a good idea to have them take turns opening books to keep everyone excited. Some families choose to have different books for different of their children, but we've chosen to have one book per night that appeals to all of us. Our children are close enough in age that this still works wonderfully for us; do what will be the most fun for your particular family ages and interests.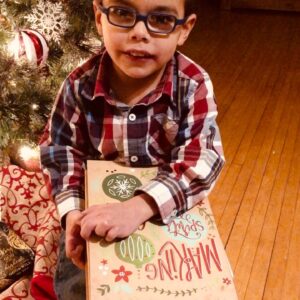 Keep the storybooks handy. As you open the books throughout the Christmas season, display them to be easily accessible throughout the holidays. You'll find that your children (and probably you, too!) will be reading them over and over!
Switch things up. This year, I've added a nativity floor puzzle to our stack of books. While technically this doesn't fit into the "read-aloud" description, I think that my children, who love puzzles, will be so happy to find a surprise in the mix, and we can talk about the Christmas story together as we build the puzzle. You can also add in an audiobook if your family enjoys those!
Pack those gems away.When the decorations are taken down and stored for the season, so are the Christmas books. This keeps them fresh and exciting Christmas after Christmas!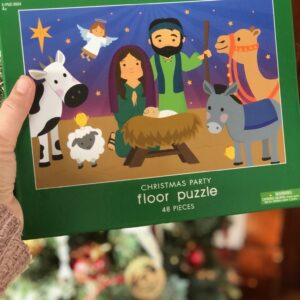 Here are our top ten favorite Christmas books – so far! We keep finding new ones as our collection grows.
This post contains affiliate links for products we use and love and think may be helpful to you. Please read our full disclosure here.
Are you excited yet!? Starting a Read Aloud Countdown to Christmas is easy, fun, and can be a very frugal way to create Christmas memories together!
If you've never done a Read Aloud Countdown to Christmas before, I hope you'll try it with your family this year. If you already observe some variation of this tradition with your children, please leave a comment below and let the rest of us know what some of your most loved Christmas storybooks are!
P.S. While you are building your Christmas story collection, don't forget about books that are a collection of Christmas stories. I highly recommend the Christmas in our Hearts books, edited by Joe Wheeler (the ones I mentioned that we read in our home when I was growing up). I also really enjoy this treasury of Louisa May Alcott Christmas stories.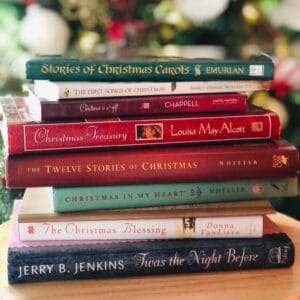 I wish you and your family a most wonderful Christmas season as you celebrate the birth of Christ and spend time together, creating lifelong treasured memories as a family.
Happy Reading and Merry Christmas!