Deliciously Easy Old-Fashioned Lemon Iced Tea
Nothing says "summer" like a tall, frosty glass of Easy Old-Fashioned Lemon Iced Tea! This simple recipe makes a gallon of delicious, not-too-sweet tea with just the right amount of lemon tartness to balance the tea perfectly. Are you thirsty?! Let's make some tea!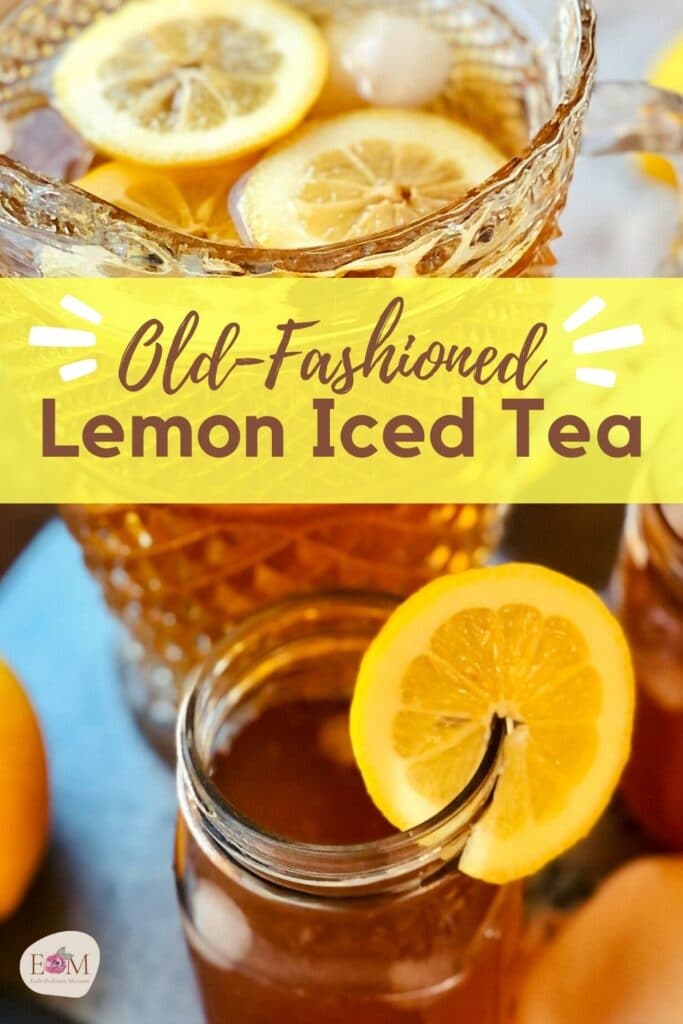 The Story Behind Easy Lemon Iced Tea
Many years ago, I worked as a caregiver for a lady who was severely physically disabled, but whose mind was as sharp as her spirit was sweet. Despite being completely crippled and suffering from relentless pain, Pat was one of the most joy-filled people I have ever known.
I learned so many life lessons from her, but I also learned a lot of practical skills, including sewing. Though she could no longer use her sewing machine that she had once loved creating with, she would sit in her wheelchair next to me, and patiently guide me with her words as I learned to sew curtains, bed-skirts, alter clothing, and a host of other creations.
Another thing that Pat taught me was how to make home-brewed iced tea. This recipe I'm sharing with you today is her simple recipe, except that I add lemon to mine as I find the tartness of lemon beautifully balances out the briskness of strongly brewed tea.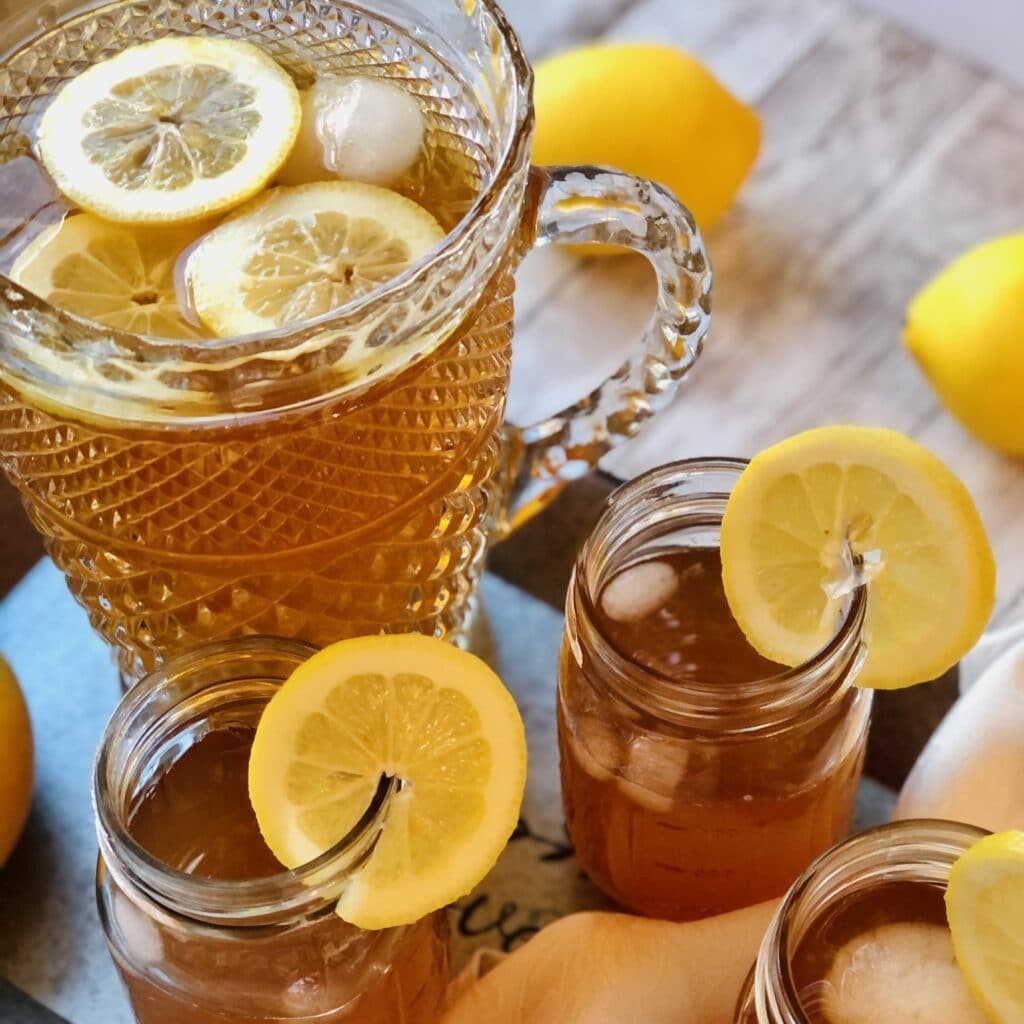 What Kind of Tea Should I Use for Making Old-Fashioned Lemon Iced Tea?
This tea can be made with either green or black tea and is lovely mixed with different herbal teas if you're feeling adventurous. I will often do 5 bags of black tea and 5 bags of herbal tea, such as Country Peach Passion, by Celestial Seasonings (one of my absolute favorite tea makers!).
Why Old-Fashioned Iced Tea is Such a Wholesome Summer Drink
Tea is such an amazingly healthy drink! (Here's an interesting article that talks more about some of the great benefits of tea drinking if you're curious). Of course, sugar doesn't exactly qualify as a healthful ingredient, but the sugar content in this tea is pretty low if you consider that there is only 3/4 of a cup in the whole gallon – that works out to be just over two teaspoons of sugar per cup.
However, if you want to try cutting down the sugar a bit more, you certainly can! I've also sometimes substituted part or all of the sugar with honey. Honey Lemon Iced Tea is very delicious and refreshing, but honey tends to be a little spendy, so I usually save that for more special occasions rather than everyday drinking.
The lemon juice in this iced tea also amps up the health benefits, as lemon juice is chock full of nutrients such as vitamin C, folate, and potassium.
What you'll need for making Old-Fashioned Lemon Iced Tea
Equipment:
A one-gallon juice jug or pitcher, a small pot
Ingredients:
3 cups of water
8-10 bags of green, black, or herbal tea
¾ cup sugar
½ cup lemon juice, bottled or fresh
Two trays (or more) ice cubes
Cold water to fill a one-gallon pitcher
Thirst yet?! Let's make some iced tea!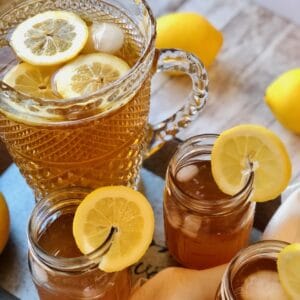 Easy Old-Fashioned Lemon Iced Tea
Nothing says "Summer" quite like a tall glass of Old-Fashioned Lemon Iced tea! This not-too-sweet tea has a perfect blend of tart lemon flavor and brisk, strongly brewed tea that'll hit the spot all summer long!
Equipment
A one-gallon juice jug or pitcher, a small pot
Ingredients
3

cups

water

8-10

tea bags

green, black, or herbal

¾

cup

sugar

½

cup

lemon juice

bottled or fresh

Two trays

or more ice cubes

Cold water to fill a one-gallon pitcher
Instructions
In a small saucepan, bring three cups of water just to a boil.

Remove the pot from the heat and add the tea bags. Let the tea bags steep for ten minutes.

Meanwhile, prepare a gallon pitcher with the ice, and pour the lemon juice over the ice cubes.

Once the tea has finished steeping, remove the tea bags and while the tea concentrate is still warm, add the sugar and stir until dissolved.

Pour the tea syrup over the prepared ice and lemon juice, and add water to the half-gallon mark, then stir with a long-handled spoon to mix well. Add the remainder of the water to make one gallon of lemon iced tea. Pour over ice in a tall glass, garnish with a slice of lemon if desired, and serve immediately, or refrigerate for up to three days (but it probably won't last that long!).
Notes
Note: If you want to always make sure that you have iced tea on hand during the hot summer months, you can make the tea and sugar syrup ahead of time, store it in a mason jar, and have it handy and ready to mix up in a minute or two.