Honey Flax Wheat Bread-Bread Machine Recipe
There is just something about fresh homemade bread that is so comforting. I mean, is there anything more wonderful and homey than the aroma of bread baking in the oven (or bread machine!)? Especially when the bread is extra wholesome like this Honey Flax Wheat Bread.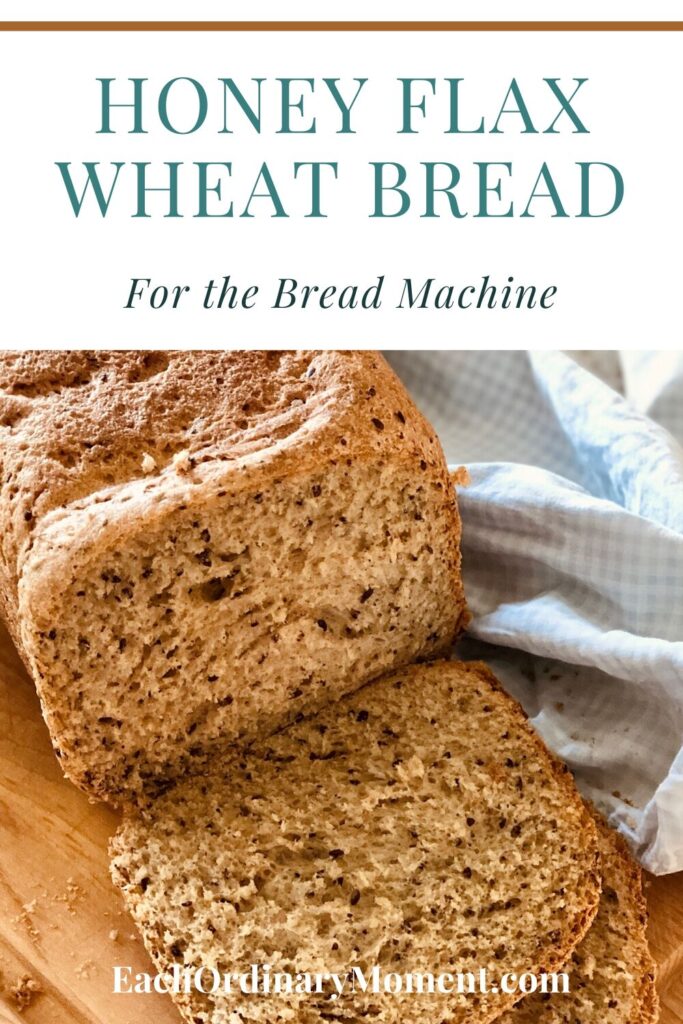 My trusty old bread maker was given to me by a sweet, new friend shortly after I moved to North Dakota. While I was visiting with Dotty I mentioned that I liked making bread but it always seemed like a lot of work. She proceeded to disappear into her overstuffed garage and reappeared a few minutes later with a slightly dusty bread machine. She had gotten it at a garage sale; the $3 price tag was still on it. She was glad for me to take it and put it to good use, which I happily did.
That was nearly ten years ago, and the trusty old bread machine still chugs along. It makes the old-style tall rectangular loaves which result in square slices. If I ever need to replace my machine (here's hoping I don't need to!), I would look for one that makes a more traditional style of a loaf, like this popular one, though I suppose the results taste the same either way. Through the years I've tested and developed different recipes and this Honey Flax Wheat Bread is the one I make most often.
Here are some important tips for using a bread machine:
If you are new to baking bread in a machine, there are a few things that you need to know. Firstly, it is very important that you use quick rise or bread machine yeast (this is the brand I'm currently using). You just won't get the same results from regular yeast as that type needs time to proof in warm water prior to mixing into the other ingredients.
Secondly, it is important that you use bread flour. This is because bread flour is made from higher protein wheat which helps to give your dough what it needs to rise nicely into fluffy, beautiful homemade bread. If you just can't get your hands on bread flour, then you can use all-purpose flour, just understand that you probably won't get the same results (your bread may not rise as well and may be a little denser). But it should still taste fine, so it's definitely still worth a try. This recipe actually calls for half white bread flour and half regular whole wheat flour, and I always have great results.
You may notice one unusual ingredient in this bread recipe – ginger. I started adding ginger to my bread years ago when I read somewhere that the spice could work as a dough enhancer to give even better results. I can't say that I know for sure that it really makes a big difference, but ginger is good for you, so I keep adding it every time! It's just one teaspoon, so it's not enough to make the bread tastes gingery, but if you'd rather leave it out, it's probably fine to do that. However, since this is already such a hearty, nutritious bread, I think that you'll find the ginger adds a very subtle hint of flavor that enhances the deliciousness!
This Honey Flax Wheat Bread is dairy and egg-free, so if you are avoiding these ingredients in your diet, then this bread will be perfect for you.
A note on the flax:
This recipe calls for ground flax, and this is important as flax that is not ground does not have the same nutritional value as your body will not be able to absorb the nutrients. You can buy pre-ground flaxseed at the store, or you can do what I do and grind your own flaxseed up in a coffee grinder or with the chopper attachment of your immersion blender if you have one.
I grind a cup or so at a time and store the extra in the freezer, as ground flax will go rancid quickly because of the high oil content if it is left at room temperature. However, flax that has not been ground can be kept indefinitely as long as it is kept clean and dry in an airtight container.
Fun fact: my husband had a farming venture the second year we were married, and grew several acres of organic flax. We bought back two fifty pound bags of organic flax from the seed company that he sold his crop to, and all these years later we are still enjoying eating it! ?
A note about altitude: The altitude of where you live can play a factor in how your bread turns out. I live at 1,598'. If you live higher than that you may have to play around a little bit with the yeast or liquid amounts. Check your machine's manual as it may have specific directions for high altitude baking, or you can refer to this helpful article from King Arthur Flour https://www.kingarthurflour.com/learn/resources/high-altitude-baking.
Now, without further ado, let's Bake Some Honey Flax Wheat Bread!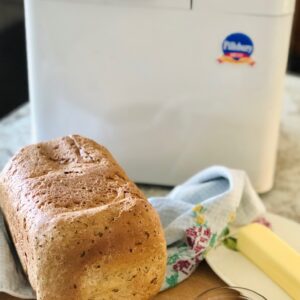 Honey Flax Wheat Bread for the Bread Machine
This hearty and wholesome bread comes together in a snap in your bread machine. It tastes amazing served warm with butter and jam, and it's is also lovely toasted.
Equipment
Special Equipment: Bread Machine for 2 lb loaf
Ingredients
1 1/3

cup

very warm tap water

¼

cup

vegetable oil

3

Tablespoons

Honey

1 ½

teaspoon

salt

1 ½

cup

bread flour

1 ½

cup

whole wheat flour

½

cup

ground flax seed

1

teaspoon

ground ginger

1 ½

teaspoon

instant yeast
Instructions
Directions:
Place all the ingredients in the order listed into the bread machine pan. Choose your Basic Bread cycle and choose your preferred level of crust color (I always set mine to medium. If you are new to using your machine, please refer to your machine's instructions as specifics may differ between machines).

Once you've selected the appropriate setting, press start. Don't walk away quite yet; it's important to monitor your dough for the first few minutes to make sure that it is neither to dry nor too wet. You are looking for a nice smooth ball of dough that is well formed (too jagged or little pieces falling off means it's too dry) and not wet or sticky (I like to carefully poke mine a time or two to check that it is not sticking to my fingers).

If the dough is dry, add warm water by the teaspoon until it is the right consistency. If it is too wet, add flour by the teaspoon until the dough forms a nice smooth ball. Now you can shut the lid and walk away and let your machine do the rest of the work!

Once the bread completes its cycle (this will vary upon your machine), carefully remove the pan from the machine, and then take the loaf out and let it cool at least a little bit before slicing in – the cooler the bread, the easier it is to slice. But if you just can't wait, nobody will judge. There's not many foods more delicious than fresh bread warm from the oven smeared with melting butter!

Enjoy!
Notes
P.S. This bread knife by OXO (Amazon Affiliate Link) is economical and is truly the best bread knife I have ever owned. A good quality bread knife makes a big difference in how nicely your fresh bread slices up! 
I hope that you have fun trying out this new recipe for Honey Flax Wheat Bread! If you are looking for more bread recipe ideas, check out my recipe for Rustic No-Knead Bread. And if you are looking for a whole meal idea, this bread would be delicious served with Creamy Chili.
Happy Baking!