Grandma's Old-Fashioned Fruitcake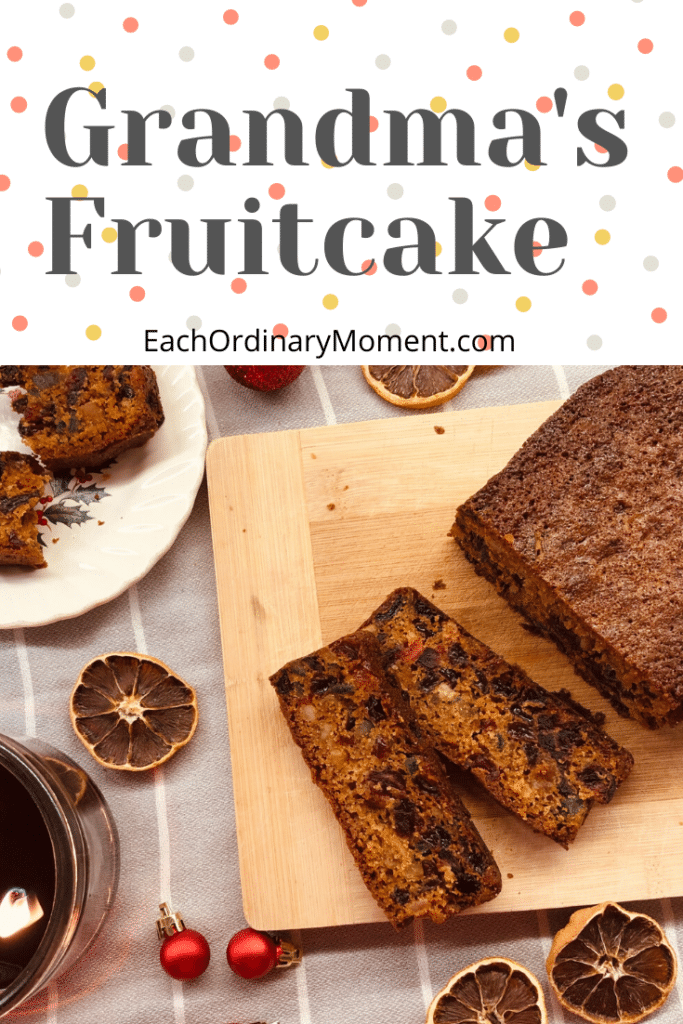 The story behind Grandma's Old-Fashioned Fruitcake:
My husband's grandma, Elizabeth, would make this fruitcake at Christmas, package it with great care, freeze it, then mail it out to loved ones. My husband and his siblings remember receiving Grandma's fruitcake in the mail (all the way from British Columbia, Canada to North Dakota!), and what a special treat that was.
Grandma Elizabeth lived until just a few months before her 103 birthday. Paul and I were married right around the time she celebrated her 100th birthday (her birthday celebration coincided with our honeymoon!), but by that time she was no longer making and sending out fruitcakes at Christmas, so I never got to taste hers. Thankfully, though, she had passed down her recipe to her daughter, my husband's mom, Esther. A few years ago, I decided to be brave and give the recipe a try, and I'm so glad I did! I have done some minor alterations to the recipe (such as dried cranberries instead of dried currants), but the basic recipe remains the same, and everyone who has tried both fruit cake recipes says, "This tastes just like Grandma's!", which is the best compliment I could receive.
This post may contain affiliate links for products we think you'll find useful. You can read our full privacy policy and disclosure right here.
This fruitcake is surprisingly simple to make, and addictingly delicious. The only ingredient that may be a bit tricky to find is the candied fruit mix, but I have always been able to find it at our local Walmart, and it also freezes great, so you can make sure to have some on hand in case it is only sold seasonally in your area.
Grandma's Fruitcake
Prep time: 15 minutes | Bake time: 1 hour 45 minutes | Total time: 2 hours
Makes 2 loaves
Ingredients:
1 cup (two sticks) butter, softened
1 ½ cups white sugar
5 eggs
2 tablespoons milk
2 teaspoons vanilla
1 teaspoon maple OR rum extract
1 teaspoon each cinnamon and ground ginger
½ teaspoon ground nutmeg
¼ teaspoon ground cloves
1 scant teaspoon salt
1/8 cup molasses OR honey OR golden syrup
1 ½ cups all-purpose flour
1 ½ teaspoons baking powder
2 cups sweetened dried cranberries
2 cups raisins
2 cups candied fruit mix (likely labeled "fruit cake mix")
Directions:
Move one oven rack to the lowest rack, and the other rack to the middle rack. Place an oven-proof bowl with 2 cups of water on the bottom rack. Heat the oven to 300°. Line two standard loaf pans with parchment paper. Spray the parchment with cooking spray.
In a medium mixing bowl, cream the butter and sugar together, then add the eggs, milk, flavorings, spices, salt, and syrup, and stir vigorously until well combined.
In a large mixing bowl, stir together the flour and baking powder. Stir in the dried fruits and fruit mix until well combined. Make a well in the center and then pour in the creamed mixture. Stir gently together until the flour mixture is fully incorporated but don't overbeat.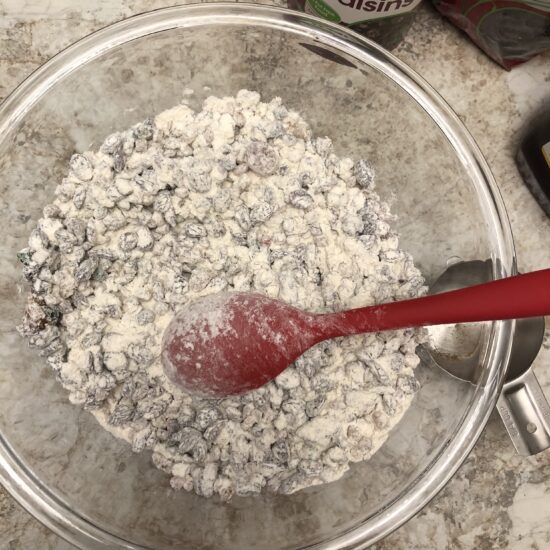 Divide the batter between both pans. Dampen your fingers with water, then carefully smooth out the batter.
Place the pans in the oven, and bake for approximately 1 hour and 45 minutes, or until a knife inserted into the middle comes out clean. Lift bread from the pan using the parchment paper, and let cool on a rack. Once the bread is completely cool, wrap it in a layer of plastic wrap and then a layer of foil, label and freeze if desired (I find that freezing and then thawing the bread enhances the flavors, but it is really good to eat fresh from the oven, too!).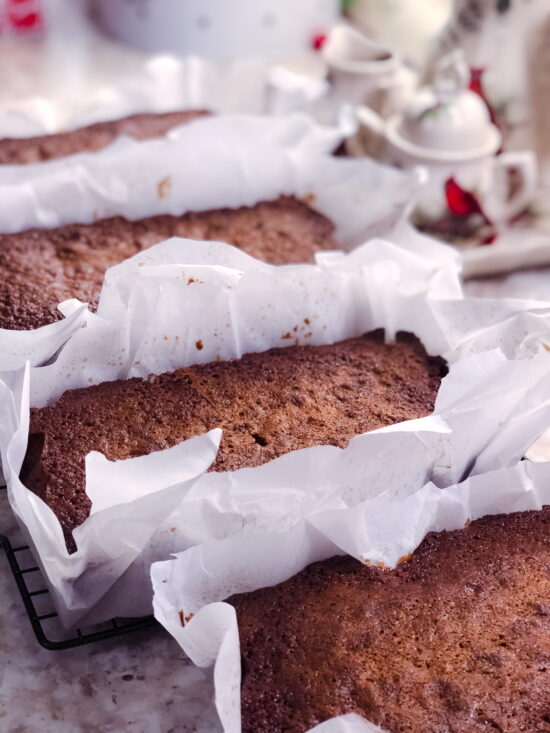 Enjoy!
P.S. Fruitcake and eggnog make a delicious holiday snack served together!