Why I Started Choosing a Word for the Year (and why you should, too!)

For the past four years I have chosen a word for the year that either summed up what I believed God wanted me to focus on for the year (basically, an over- arching goal that all my other plans, hopes, and dreams need to support, not detract from) or a specific area of my spiritual life/personal growth that I knew needed improvement.
(For a sneak peek at my word for 2020, you can take a look here.)
The first year that I chose a word was 2017, and that word was "kind". I chose that word because it was an area that I knew I needed much growth in, and I knew it would have to be God doing the work in me.
2016 had been a hard year in many ways: it started in January with us reaching the decision to say no to proceeding with an adoption of  two young children that we had spent months praying for and dreaming about. That painful decision left us feeling that we were done with adoption in the future. Then, to our surprise, joy and delight, a new baby boy entered our home later that Spring. We sensed from the very beginning that this little man would be our child forever, but his intense medical needs, including open heart surgery, took their toll on me.
Also, our church, which my husband pastored, had begun a building project that year, and as exciting as that was, the extremely long hours required of my husband were taxing on our marriage and family life. In the midst of that, people we loved and cared for and had sought to minister to for years walked out of our lives for reasons we have never fully understood.
We were left reeling, and frankly, I was feeling abandoned and like I just needed the people in my life to be a little more kind (okay, a lot more kind!). But God convicted me about the need in my own life to be the one showing kindness, even to those who had not just been apathetic to what I was going through, but downright mean. As the calendar turned to 2017, I knew that my word for the year needed to be "Kind". And believe me, I had plenty of opportunities that year to put that character quality into practice, as 2017 proved to be an epically hard year in our ministry, even as we moved to a more stable place with our young son's health.  But I found that having a deliberate word in place when everything around me seemed to be crashing down helped me to have a sense of what the next right thing was. When I felt lonely? Write a note to someone else needing encouragement. When I wanted to lash out with pointed words? Speak encouragement instead. When I felt misunderstood and maligned? Give someone else the benefit of the doubt.
Did I do this perfectly? To my sorrow, I did not. But to God's glory, I did more often than I could have ever done of my own accord, because as I memorized and meditated on what God had to say about kindness, His word did indeed "enlighten my path" and empower me to do what in my own nature was impossible.
So after trying a Word for the Year in 2017, I was hooked. I now knew how powerful it was to have a singular focus. Instead of a vague "I want to do better", I had a standard by which to check my everyday choices. And not just for the big, dramatic events of that year, but the little, ordinary, daily choices:
Snuggle with my child or get another task checked off my to do list.
Call and check in on a friend instead of waiting for them to call me.
Rest in God to defend me rather than make sure everyone hears my side of the story.
Take an active interest in my husband's project (even though it means an evening I may not get to my own projects).
Now obviously, I cannot always choose to snuggle with my children and never tackle the housework, I realize every healthy relationship has both give and take, and I am I not saying that there is never a right time to state the facts as you see them to clear up a misunderstanding. But naturally, I am wired to look out for myself, to put my interests above those of others. Self- preservation. But God calls me to something better, higher, nobler. God calls me to be kind, and I need that reminder as much today as I did all those years ago.
If you've never chosen a Word for the Year, why not start now? There's nothing magical about January 1, so no matter what time of the year you are reading this article, there's no better time than right now to start considering what would be a word or even a phrase that you would want to define your year ahead.
Here are some helpful guidelines for choosing a word:
Pray about it. As a follower of Christ, my primary desire is to have a year that is led by God. So I ask Him to show me if there is an area that I should focus especially on that year, or to reveal to me an area of growth that is needed in my life.
Don't over think and over analyze. You really can't go wrong with choosing a word. It doesn't have to be something really profound or nuanced. Start with asking yourself, "What is one thing/area in my life that is lacking/needs improvement?" My experience in the few years I've been doing this is that a word comes to my mind pretty quickly, but I know others may make a list of a few words, think over it for a period of time, and then make their choice.
Once I've got a pretty good idea of what my word is going to be, I like to do a simple word study on it from the Bible, and then choose a couple Scriptures that really reinforce the concept that I am developing.
Once you've chosen your word, let somebody know! Whenever we are working on making some changes or setting a new goal, it's a great idea to let at least one other person know about it, because it gives us a little bit more accountability, which is just another way of saying that we are more likely to stick to it and follow through!
Make or purchase a tangible object with your word on it. This could be a sign, and magnet, a peace of jewelry of some artwork. I've been surprised just how often I see "my word" all around once I've chosen it, and I've never had a problem finding something with my word on it; a vase, a necklace, a wall hanging, a magnet. I find that having a visual reminder of my word somewhere where I see it often helps keep it in the forefront of my mind and heart.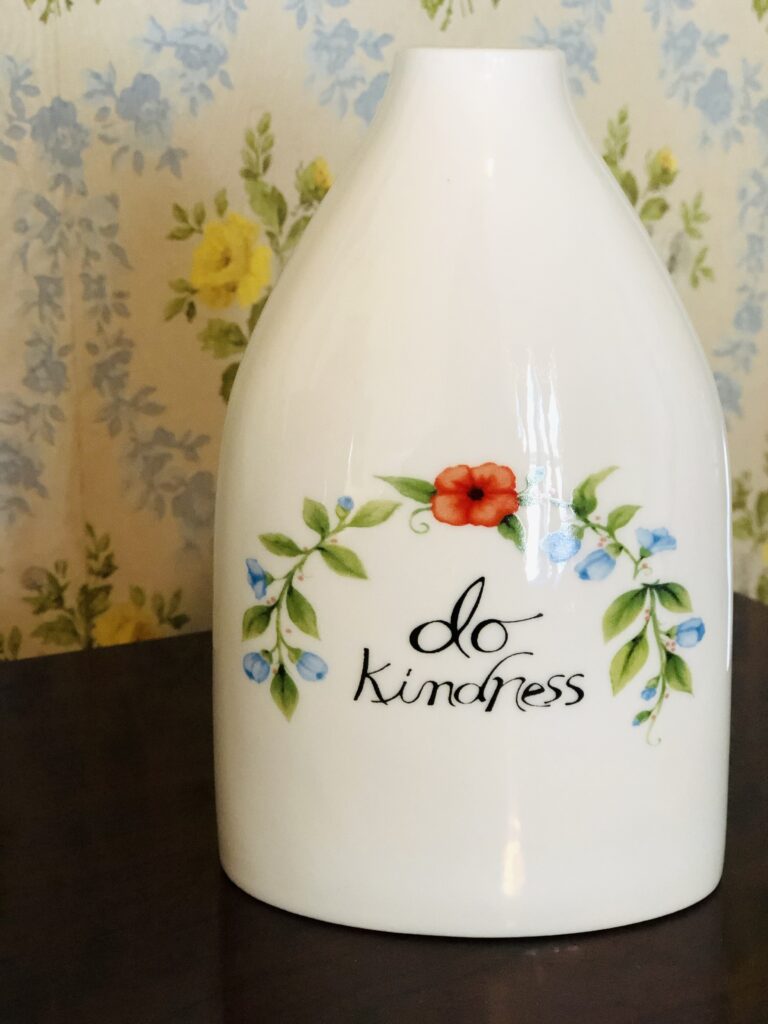 So what about you? What is a word that you've chosen for the year? I'd love to know, so leave a comment below, or you can send me a message if you'd prefer.
In the next few articles, I'll be sharing about my words from 2018, 2019, and my new word for 2020. Stay tuned and subscribe to receive my newsletter if you haven't already so that you always get notified about new posts!
Have a lovely day,