4 Practical Ways to Love Your Kids Well (Even on Hard Days)
As moms, we do everything we can to make sure our children are safe, happy, and nurtured. But sometimes in the middle of daily demands, our delight in our children can begin to fade into duty. Read on for some meaningful ways you can love your kids well, in ways they understand. 15 minute read.
There's a peculiar command that you'll find in the little New Testament book of Titus. Nestled among a broad range of character qualities expected of those who call themselves Christians is the instruction for older women to teach the younger women "to love their children."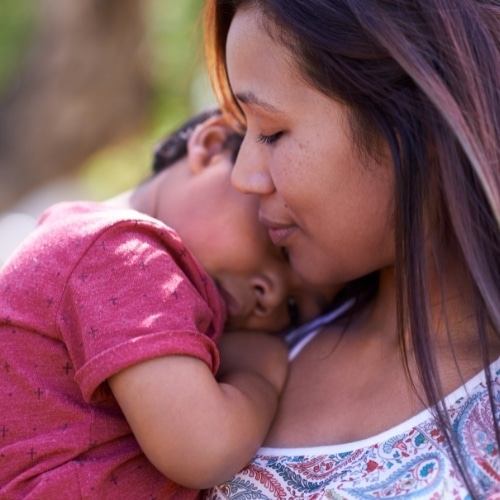 Really? Why would mothers need to be taught how to love their children? The maternal bond forged when a mother first holds her child is a powerful force to be reckoned with. The deep instinct to nurture life reveals itself through the selfless and self-sacrificial care mothers give to their children without any expectation of reciprocity.
This post may contain affiliate links to products we use and recommend. Thank you for your support!
We give up our sleep.
We say goodbye to our free time.
We might even part ways with that last piece of chocolate because our child asked for it so nicely.
And we do it all from a deep, heart-bending well of love, a love that would die for our children.
Why We Need to Learn How to Love Our Children Well
So why then do we need to be taught how to love our children? Well, gals, dust off your dictionaries and Bible concordances because we are going to do a little word study. Don't worry, it's nothing too deep, but it's going to shed some light and bring a bit of clarity to the subject of loving our children well.
In our English language, we use "love" pretty loosely. We love ice cream. We love our friends. We love a beautiful sunrise. But in the Greek language that the New Testament was originally written in, a few different words were used to describe different types of love or affection. The kind of love described in the famous 1 Corinthians 13 chapter is the word "agape," which carries the idea of a benevolent or charitable love and is often used to describe the love of God towards sinners or the sacrificial love demonstrated by selfless deeds of kindness (see Hebrews 6:10).
That's the kind of love that we moms get a lot of practice with, and we may even be pretty proficient at by nature.
But a different word is used in Titus 2. It's the word "Philoteknos." It's only used once in the entire Bible, and it simply means "to be fond of one's children." The Merriam-Webster dictionary describes fond as "cherished with great affection." Cherish can be defined as "to cultivate with care and affection." Some synonyms of the word fond are adoring, attentive, and warm.
We may get up numerous times throughout the night to care for a needy child without complaining. We will make meal after meal after meal to feed our hungry families. We make sure our children are clean, clothed, and safe. As moms, we love our children with every fiber of our being, and we would stop at nothing to make sure their needs are met. But here's the catch: we can start to do all that out of a sense of duty, and ever so subtly, our delight in our children gives way to a grudging attitude, and if left unchecked, we may find ourselves beginning to resent our children – our precious gifts from God – for all we have "given up" on their behalf.
We saw this phenomenon rise in volume over the last couple of years, spurred on by the unusual, and at times taxing, demands of post-pandemic life. Suddenly, it was acceptable, funny, and even expected for moms to talk bad about their kids on social media for all the world to hear. You probably saw some of the t-shirts, mugs, and Instagram posts. Moms everywhere started posting not-so-funny memes about how their kids made them crazy, drove them to drink, and other similarly negative sentiments.
There are hard days in motherhood. I get that. I am a mommy to four boys, three of whom have special needs and all who have sinful natures just like their mommy and daddy do. Yes, my children are consistently fed and clothed, but not always by a mama with a happy heart. And it grieves my heart to confess that. I know how desperately I need to learn to better love and cherish my children. I know you have those hard days, too – otherwise, God wouldn't have thought it necessary to point out that delighting in our children is something we need to learn.
I also know that mom guilt is real and heaping a bunch of vague "you ought to do betters" on our shoulders isn't helpful. So, I'm not going to lecture us; instead, I'll share some practical and straightforward ways that I've been learning that can help make our children feel loved (bonus: these tips will help any relationship that needs a little TLC). Let's do some Titus 2 mentoring together and look at some tangible ways we can move from duty to delight in our mothering!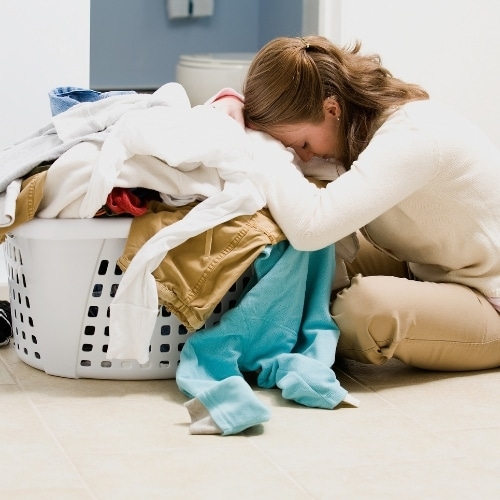 Here are four practical ways to love your children well
1. Remember Your First Love
In the book of Revelation, chapter two, Christ is talking to the church at Ephesus. This church was doing so much right! They worked hard, patiently bearing difficulties, and kept faithfully showing up to serve even when they were bone-weary.
But there was one little problem – they had "left [their] first love." They had slipped into a place where they were serving out of duty. Their actions looked loving, but their hearts weren't in it, and God had some pretty strong words of rebuke and warning for them.
So, what does that have to do with loving our children? As it turns out, a lot! The centuries-old remedy that would help this serving, but cold, church rekindle their love for Christ is incredibly helpful for today's human relationships as well.
My youngest son, who is still in foster care at the time of this writing, has special needs and requires a variety of therapies, including behavioral therapy geared towards children with neurological issues and developmental delays. A big part of the foundation laid during this therapy is strengthening the relationship between parent and child.
One way we are taught to do this by intentionally remembering "tender moments" that we had with our child throughout the week. For our toddler, this could be a recalling a time of giggling together, cozy snuggles, or warm eye contact and an exchanged smile. For older children, the "tender moments" might look a little different than they do for a toddler (or they may not – a shared laugh is one of the most powerful forms of human connection no matter what your age). I am also trying to use this technique with my older children, and it is helping me recalibrate my heart, especially on difficult days.
Remind yourself often of the gift that your child is, even when – especially when – they are struggling. Look hard for the positives and let them hear you say how thankful you are that you get to be their mom. When you feel annoyed, exhausted, and exasperated, look back to a beautiful time when your heart swelled with so much love that you thought it would burst! Remember your first love, and remember it often.
2. Do the First Works
While "remembering our first love" helps us shift our mindset, this principle from Jesus' words to the Ephesian church calls for action. Pause for a moment and think: What are some of the meaningful things you have done with your children in times past that showed them love but perhaps have slowly tapered off?
Did you use to tuck them in at night, kiss their chubby cheeks, and pray over them? Maybe you snuggled together and read their favorite book – over and over. Did it used to be so easy to tell your children often how much you love them and how precious they are to you, but those affirming words have become scarce lately? For older children, maybe it was playing a game, cooking together, or going for walks and chatting. As you think this over, jot down what comes to mind. And if you are brave enough, you might even want to ask your child if there is anything you used to do together that was special to them that they wish you could do together again.
(As I was writing this post, one of my sons wasn't feeling very loved at the moment. He said, "Remember, Mommy, you said you were writing about loving your kids." Yep, this is all real and raw in our household! That was a clue to me that it was time to do some "first works").
Remember this: our feelings follow our actions. I admit there are days that I don't feel like kissing my sons goodnight and telling them that I love them. But they need to know that even after a tough day, I am still thankful to be their mommy, they are still precious to me, and I still love them forever and always. And as much they need to hear it, I need to lead my heart with my actions. And here's a bit of good news: I can tell you from experience that when I put effort into doing the "first works," it does wonders in each of our hearts.
3. Understand the Importance of Eye Contact
If there is one thing that our device-addicted world has robbed from us, it is eye contact. One of the most powerful ways to connect with our children is through the window to their souls – their eyes! In her book, The Connected Child, author Karyn Purvis talks much about the importance of looking our children in their eyes.
The premise of Connected Child is specifically designed for families working towards establishing connection and attachment following adoption. Still, the book rings true for all families who want to learn more about communicating love to their children. I highly recommend that all parents read this important book no matter what their family situation is.
Now, most of us are pretty good at expecting eye contact from our kids when we give them an instruction or lecture them. But if that is the main or only time they receive eye contact from us, we are missing an essential tool for building loving connections, and we are doing our children – and ourselves – a great disservice.
So, the next time your child walks into the room, stop for a moment from what you are doing, lift your eyes, and make eye contact. There's no simpler or more needful way to say, "I love you, and you matter to me!"
4. Study Your Child
What are their interests? What are they good at? What unique quirks do they have? What are their favorite foods? What upsets them? What helps them calm down? What makes your child feel most loved? If you are not familiar with the concept of The 5 Love Languages book by author Gary Chapman, that's a great place to start learning about the different ways people – littles and grownups – communicate love.
Whether through words of affirmation, gifts, acts of service, quality time, or physical touch, there's a good chance that your child "speaks" and "hears" one or two of these love languages louder than the others. I recommend reading either the original book or The 5 Love Languages of Children. Even if you find it difficult to hone in on precisely what your child's primary love language is, reading these books will lay a foundation that will help ensure that you are saying loud and clear to your children, "I love you" in ways that are easy for them to understand and receive.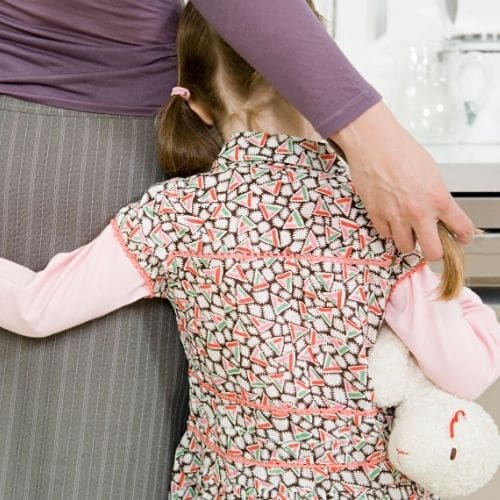 Closing Thoughts on Loving Your Kids Well
God's crucial instruction in Titus 2 for older women to teach younger women "to love their children" is vital for the wellbeing of our children, ourselves, and our entire family. I pray you feel better equipped to love your kids well by remembering your first love, doing the first works, giving the gift of eye contact, and studying your child in order to love them even better than you already do!
Remember, love is a choice, and love is an action. Our children are precious gifts from God, and as we love them well, we will find our hearts being "knit together in love" (Colossians 2:2). And that, sweet mama, is delightful indeed!