7 Things Homeschoolers Need to Know
Most any parent that has been homeschooling for a while will tell you: home education is not for the faint of heart! Here are 7 things homeschoolers need to know.
I have a confession to make. Although our family is heading into our sixth year of homeschooling this fall, and I even grew up in a homeschooling family, educating my children at home does not come easy for me. You could even say that (initially anyway) I was a reluctant homeschooler.
There's been a lot I've learned along the way, and much I am still learning. And chances are, if you are a new homeschooler this year, you are going to find out quickly that it does not come easy for you, either. That doesn't mean that it is not the right choice for your family, or that you are not qualified to take on this momentous task. It just means that there are going to be days ahead when you are going to doubt your decision and even feel like quitting right there on the spot. At those times, you're going to need little boosts of encouragement to keep going.
In the spring of 2020, nearly every family in the world got a headfirst, no prep, introduction into an unusual version of homeschooling as the coronavirus spread throughout the world, and schools everywhere were required to send children home. With as much creativity and ingenuity as possible, parents worked together with teachers to continue the education of their children. Parents who never even considered home education before were now forced to come to terms with the fact that their children were under their roofs 24/7 and the responsibility for a successful education rested squarely on their shoulders whether they felt prepared for it or not.
This post may contain affiliate links for products or services that I personally use and recommend. When you make a purchase through any of my links I may earn a commission at no extra cost to you. Read my full disclosure here.
As others have been quick to point out, this hybrid of classroom learning/distance learning/home education was not a very accurate picture of what true homeschooling is for most families. Non the less,  for many, this forced introduction to learning at home was the push they needed to make deliberate plans to begin homeschooling this fall. I've had several friends who have not previously homeschooled who have reached out to me as they make decisions about homeschooling this year. While many schools are reopening this fall, a lot of parents are having reservations about sending their children back. Others who have long toyed with the idea of homeschooling their children see this as a perfect opportunity to take the plunge and start the journey of home education.
With all that in mind, I want to share with you a few things you need to know if you are new to homeschooling. Even if you are a veteran homeschooler, I think you'll find this refresher helpful! Pull up a chair, pour yourself a tall glass of iced tea, and let's chat!
 Know your why. When our family started on our homeschooling journey with my then 4 and 5-year-old boys, there were several homeschooling families in my rural area. Since that time, a number of those families have, for a variety of reasons, decided homeschooling was not for them anymore. Seeing others change course was disheartening for me, and as a mom, I certainly had moments when I second-guessed whether I had what it took to keep going, or whether I was truly the best teacher for my children. My resolve to educate my children at home was further tested as my son's special needs became more and more evident. But I knew my "why" for homeschooling, and that kept me going when I felt like I was in water far too deep.For our family, one of the main reasons, though not the only one, for choosing to homeschool was so that we could give our children a solid Christian education. Keeping that "why" in my heart kept me going even on the tough days. And believe me, there were plenty of them! Which leads me to my next point: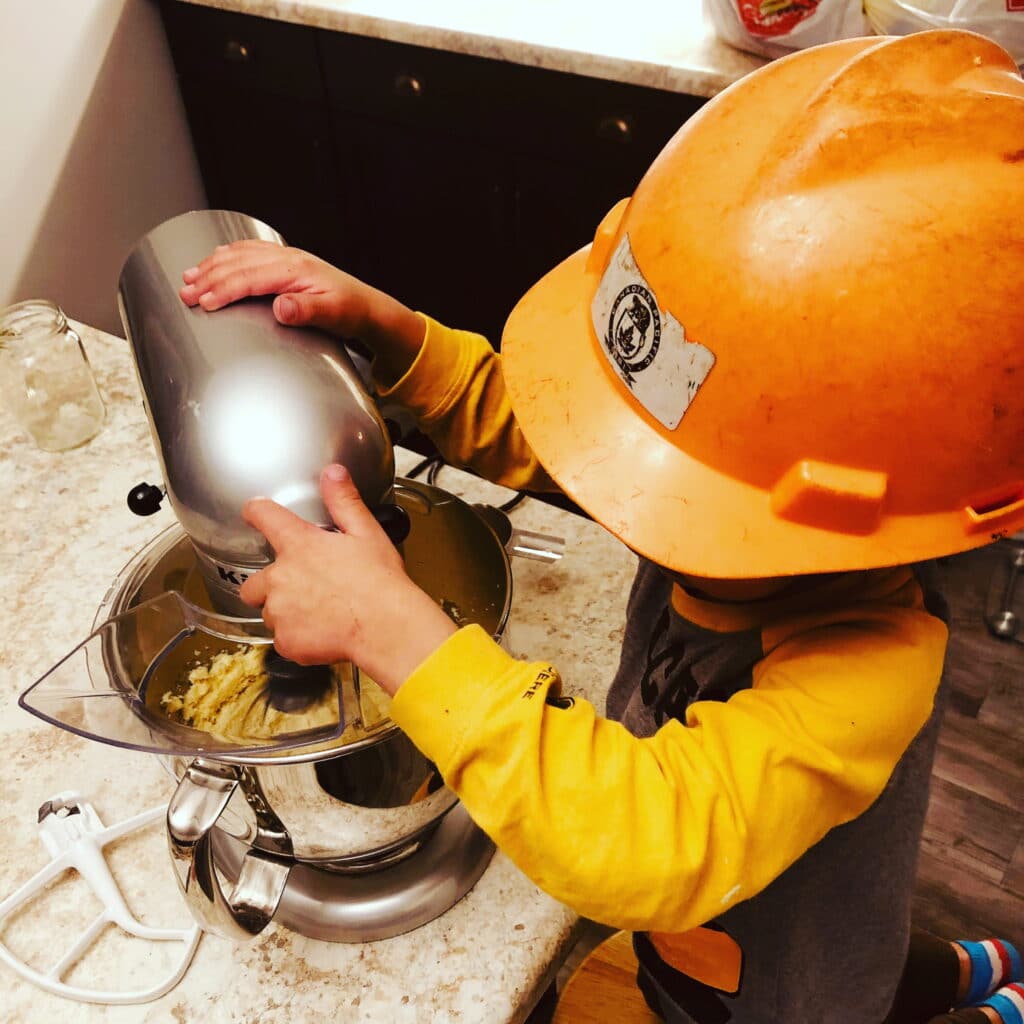 Homeschooling is hard. There are going to be days when you desperately want to quit. There are going to be days when you can't even teach because you're a messy puddle of tears. It is going to take a huge dose of commitment, patience (more about that in our next point!), and most of all, lots of grace. Grace from God to us, grace that we extend to our children, and grace towards ourselves as we come face to face with our own painful failures and inadequacies. As important as a consistent schedule is, there are going to be times when the books need to be pushed aside, and everyone, yourself included, needs to go outside and play in the sunshine. And that is just fine because homeschooling is about much more than just "book learning". We are learning for life, including teaching our children to deal with tough days and things that aren't going at all as we planned. One reason that homeschooling is hard is that:
It's true: you aren't patient enough. If only I had a dollar for every time someone has told me, "I would love to homeschool, but I just don't have the patience for it!" Or perhaps even more honestly, "I could never homeschool – I'm just not patient enough!" Every parent knows how much patience parenting takes, and every school teacher knows how much patience teaching takes! Now that you are homeschooling, you are both the parent and the teacher (and the principal – the buck stops with you!). Yet, I've never heard even one homeschooling parent say, "Oh yes! I've got a ton of patience! In fact, that's why I decided to homeschool!". As Christians, we know that patience is a fruit, or evidence, of God's Spirit working in us and changing us. Think for a minute about what some of the other fruit listed in Galatians 5 are: love, joy, peace, kindness, and the list goes on. What if someone said. "I would love to _____but I'm just not kind enough" or "I could never do_____; I'm just not gentle enough". We can understand that those are areas where a person needs growth. And it's the same for patience (also translated in the Bible as longsuffering or endurance). Not having enough patience isn't a bad thing at all if it drives us to acknowledge our desperate need of the Spirit of God changing and remaking us into the people He designed us to be. Now, the last thing I want to do is discourage you before you've even begun this journey, so I need to let you know that: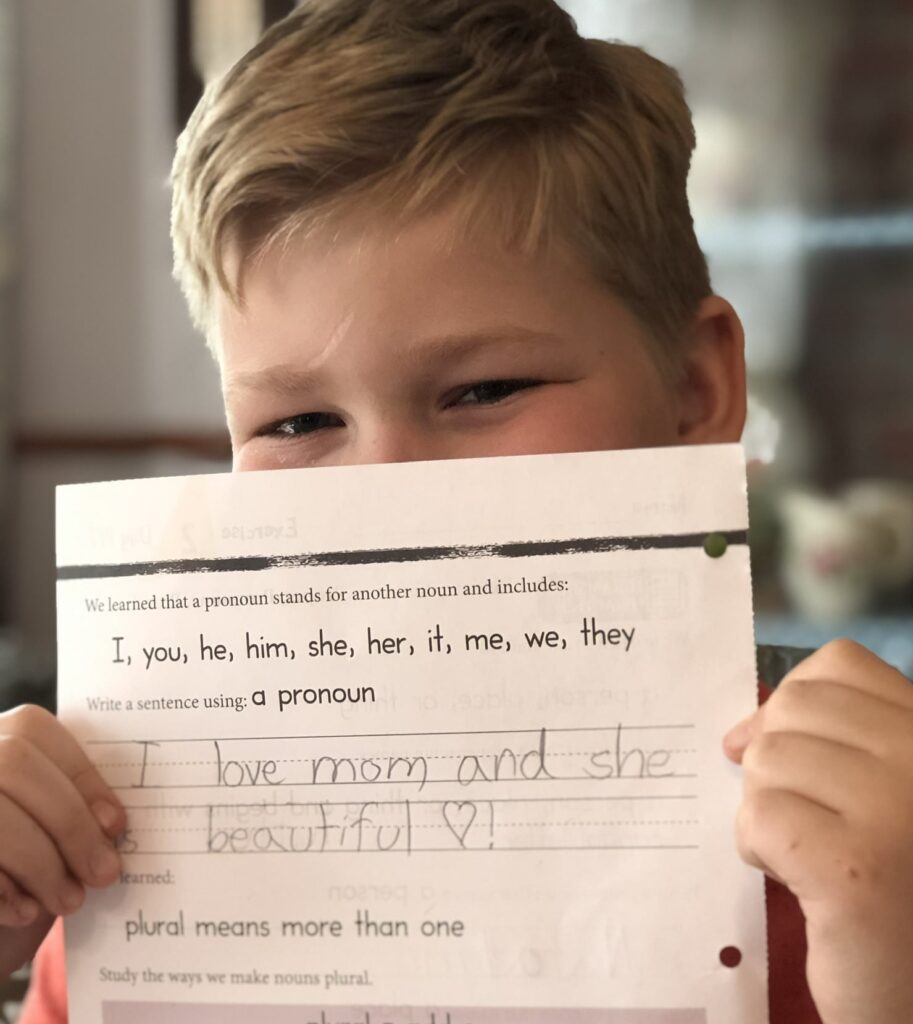 Homeschooling is a ton of fun. Say what? Did I just contradict everything else I said? Not at all. Just because something is hard and requires patience, grit, and grace does not mean that it is not also full of potential for delight. Think of most anything worthwhile that you have ever learned: a musical instrument, a sport, a craft skill, a tough but fascinating college course. Hard work? Yes! Tenacity required? Yes. Fun – probably, but that's entirely up to you. And it's the same with homeschooling. Listening to your child sound out words for the first time. Giggling together over a silly song you made up together to help remember grammar rules. Watching their eyes widen as a new concept finally makes sense. Feeling pretty smart because you just learned a fascinating historical fact that fits like a puzzle piece into current events you've been following. Having the flexibility to take the morning off to go on a nature walk together or to visit a local museum on a whim. Reading a chapter book together and getting just as immersed in the story as your children. Remember, your attitude is contagious! If you are ho-hum about the school day, or your kids hear you complaining about having to teach them, they will pick up on it fast. They will also pick up on it fast if you are excited and enthusiastic about being their teacher! Keep a sense of wonder as you teach and learn alongside your children, and you'll find the mundane becoming spectacular. Remember, you are aiming for cheerfulness and enthusiasm, not perfection, because:
There is no perfect homeschooling family. There never has been, and there never will be. That includes your family. Phew! Now that the pressure is off, you can take a deep breath. Many parents enter into homeschooling with so much enthusiasm and excitement. They've spent hours upon hours poring over glossy homeschool curriculum catalogs and vibrant websites, full of pictures of beautifully posed, happy children studiously bent over their workbooks, while a poised, smiling mother serenely supervises nearby. Of course, no curriculum company would ever put a picture of a frazzled mom (still hoping for a free moment to brush her teeth), attempting to help one child with a complicated math question while simultaneously wiping up spilled milk from her helpful toddler who decided to pour his own sippy. And then there is social media. Search some homeschooling hashtags, and you're likely to see more beautiful pictures with nary an exhausted mom or frustrated child to be seen. In this age of glamour everywhere, it is so easy to fall into the comparison trap. Please don't! Comparing yourself to others is never healthy. You'll either end up feeling like an utter failure, find yourself judging those who seem to be doing less well than you, or tottering erratically between those two places but never experiencing contentment and joy. Give yourself (and your family) time to grow together. Learn from others, but don't compare yourself. Speaking of learning from others:

It's about loving to learn, not perfection.

Asking other homeschoolers for advice is crucial. Veteran homeschoolers have a lot of wisdom to share! Ask anyone whose been homeschooling for even a little while, and they'll tell you some things they had to learn the hard way, areas they needed to adapt in, things that needed to go, and other things that needed to be added in. Don't be afraid to ask other homeschooling parents for their tips; most if not all will be very happy to chat. Remember, just because someone shares advice with you doesn't mean you are obligated to follow it.  Good and wise people can have very different opinions about the very same things, such as the ideal method or philosophy of home education (online, Charlotte Mason, Classical, Unit Studies, etc.). Glean wisdom from a variety of sources: from parents who have homeschooled for years and have children who are graduated, families with children similar in ages to yours, others new to homeschooling who are freshly researching options and have some helpful finds to share with you, and other parents of children with special needs if that applies to you. Ultimately, the decisions you make for your family rest on you and your spouse to make, and you must do what you believe is best for your family. You may not get it exactly right the first time, and that is just fine. That's one of the beauties of homeschooling is that you can be flexible and adapt your learning plan and even curriculum as you go along to find what is most suitable for your family. And last of all:
Remember that homeschooling is a marathon, not a sprint. Burnout among homeschooling parents is a real thing. Pace yourself. Decide ahead of time what are the core subjects and extracurricular activities you want to focus on. Especially if you are teaching multiple ages of children at the same time, simplicity is going to be key. Once your family has established a good routine that is working (at least most days!), then you can absolutely look at adding more things in (art class, anyone?!), but don't try and do it all right from the beginning. You may find that you are doing tons of stuff, but not doing any of it well.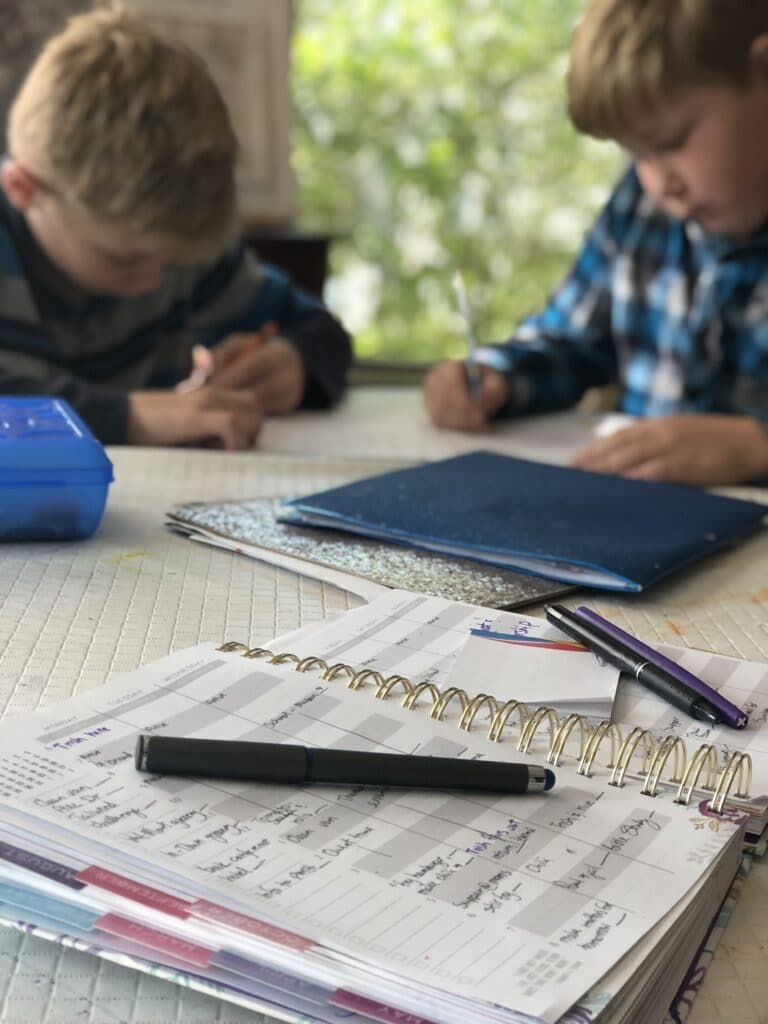 I hope that keeping these seven things in mind will be helpful to you as you begin a brand new school year. Remember, you are uniquely qualified to give your children an excellent education. You know them better and love them more than anyone else on this planet. Know your why, remember that you can get through the hard days with God's grace, learn from others but don't compare yourself to them, and pace yourself for this incredible marathon ahead of you. You are going to be just fine, and I'm cheering for you!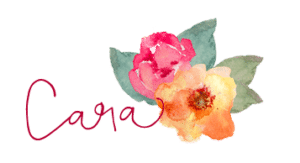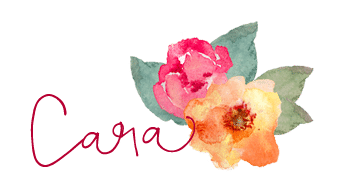 For more encouragement, I highly recommend checking out these resources from fellow homeschooling moms:
The Daily Connoisseur (there are several homeschooling videos in this playlist).

Christian Book is a one-stop-shop for all things homeschool. This is where I do almost all of my homeschool shopping!
The Homeschool Legal Defense is a wonderful resource for everything from the legal aspects of homeschooling to advice for educating children with special needs and everything in between.
Still reading? Here's a little glimpse into what our homeschool looks like this year:
I am teaching each of my four children, ages 4-10. My oldest son requires mostly one to one instruction due to his special needs, including severe apraxia of speech. My second son is completing some grade 3 as well as beginning grade 4 in a couple of subjects. He is a typical learner and a typical boy who does well in school but would still rather be doing something with his hands outside or in the garage than sitting at a desk! My five-year-old son and my four-year-old foster son are in preschool this year (we will be using the BJU distance learning program for this).
You may also enjoy:
Heart Surgery and the Faithfulness of God
Why I Started Choosing a Word for the Year (and Why You Should Too)
Preparing Spiritually Brave Kids