The Choice is Yours: 4 Great Decisions That Will Change Your Year
What if you could choose to have a good year whether or not you set and achieve impressive goals? I want to encourage you that with God's help, you can! Let's look at four great decisions that will change your year (and your life!) as they change your heart, one day at a time.
"This book of the law shall not depart out of thy mouth; but thou shalt meditate therein day and night, that thou mayest observe to do according to all that is written therein: for then thou shalt make thy way prosperous, and then thou shalt have good success. (Joshua 1:8)
I love the freshness of a brand-new year! It feels good to hang up an unmarked calendar, or open a pristine planner, and begin jotting down plans and dreaming up goals and resolutions.
Well, at least at first, it does – until I realize anew that I am still the same person I was on December 31st, and I still live with the same people, in the same house, with the same limitations. I still have the same strengths and weaknesses, blessings and burdens, godly character, or lack thereof.
As January rolls into February, many of us find we have already fallen short of our goals and resolutions. The cheery optimism that marked the beginning of the year begins to give way to a discouragement that settles deep into our souls.
The Difference Between Goals and Decisions
I'm not very good at sports, and it shows whenever I play! Still, I have fun going with my husband and our boys to our local small-town catch-all community center and shooting some hoops in the gym. Of course, the point of shooting baskets is to actually get the ball through the hoop – to get a goal. I miss more often than not because either my aim is off or another player intercepts my throw.
This is no big deal in a casual game with my husband and kids since we are just playing for fun and exercise. But in real life, setting goals can feel like shooting the ball towards the hoop, just to miss time after time– only in this case, it matters a whole lot whether or not I make a score.
Like playing basketball, there's a lot within your control, and you can drastically improve your outcomes with regular practice and training. But there are also many factors that you have no control over – times when your shots are intercepted. In life, some "interceptions" may happen because:
My goals include things and people that are beyond my control
My goals are so big that they overwhelm me
My goals take more effort than I am willing or capable of investing
My goals are often a final destination, but what I need is a map to tell me how to get there
For years I made a list of resolutions and set goals at the beginning of each new year. Doing so can be a helpful exercise and give us a vision of what we are working towards. But goals are often too broad and include factors beyond my control – interceptions, if you will.
Intentional decisions are more like walking with an expected destination in mind. Our family sometimes walks to our local ice cream shop in the summer. We know where we want to end up, so we direct our steps to go that way. It's a long walk, but barring some catastrophe, we eventually make it there, eat our delicious soft-serve cones, and turn our steps toward home.
If you've been discouraged by goal setting in the past, consider pressing pause on the goal generator long enough to pray and think through the direction you want to go. Whether you are reading this post in January or November, today is a great day to make purposeful decisions that will change the direction of your year one day at a time. Let's look at four important choices that each one of us can make starting now.
"I thought on my ways, and turned my feet unto thy testimonies." (Psalm 119:59)
Decision #1: Purposefully Spend a Little Extra Time Each Day Getting to Know Jesus Better
No matter what season of life you are in, you need a thriving relationship with the Lord. Like any other relationship, this won't just happen on its own. It takes a desire and a plan. Spending daily time nurturing your relationship with the Lord isn't some legalistic "I better do this or things will go badly for me" requirement.
Ideally, it is something that we want to do and look forward to with anticipation. Yet often, it feels like a duty to check off our "good girl" list. That is why I'm reframing this not as a goal to just "read my Bible more" but as an opportunity to get to know my Saviour better. A slight shift in mindset from "I have to" to "I get to" is a pivotal step towards a thriving walk with Jesus.
The exact details of how and when you spend time getting to know the Lord better may look a little different depending on your stage of life. If you are in a time of life where you can spend long chunks of time every day in spiritual disciplines, that is wonderful. But if not, spend what time you can because five minutes is better than no minutes. Here are several ways to spend daily time with the Lord:
Bible reading and study
Prayer
Scripture Writing
Sharing with others what God has done for you and what He is teaching you
Listening to a sermon or Bible teaching podcast
Reading through a devotional
Whenever I talk about spending time with God, my heart goes out to moms with young children or children with special needs. I've walked this road for many years now, and I know how it is to feel weary and guilty over all the things we "should" be doing but have no time or strength to accomplish.
There were times through the years when all I could do was listen to the Bible on audio and pray while I tried to soothe a fussy or ill child back to sleep. I still have days when a rough night with a child or my own insomnia derails my desire to start my day with an open Bible and meaningful prayer. Yet, I believe that if your heart's longing is to grow in your relationship with Christ, He is faithful to meet you where you are, and you absolutely can have a sweet and growing relationship with Him!
That said, we must all be completely honest with ourselves and search our hearts and schedules. There often is time that we could spend with the Lord at some point during our day, but we reach for our phones, a novel, or a host of other distractions instead. Is anything taking up the precious moments you could spend with the Lord?
We all have our sinful flesh that enjoys "snacking" on empty junk food or even things that are downright spiritually harmful rather than eating a wholesome meal that takes time, effort, and some serious chewing (see 1 Peter 2:2-3 and Hebrews 5:13-14). Ask God to help you to "hunger and thirst after righteousness," and believe His promise that as you do so, you will be filled (see Matthew 5:6).
Today, choose to spend a little extra time with the Lord. Every little bit counts, and the more you walk in step with Him, the better you'll get to know Him, and the more you will be able to trust Him through whatever challenges you will face in the days ahead.
For further help, see the post: Flourish: How to Thrive and Grow in Your Relationship with God
"Grace and peace be multiplied unto you through the knowledge of God, and of Jesus our Lord, According as his divine power hath given unto us all things that pertain unto life and godliness, through the knowledge of him that hath called us to glory and virtue:" (2 Peter 1:2-3)
Decision #2: Purposefully Let Go of Offences and Refuse to Give Bitterness Space in Your Heart
I don't know what lies ahead this year, but I will inevitably experience things that will cause me pain. Whether the sins of others towards me, frustration and disappointment over things that do not go the way I wish, or the deep pain of grief and loss, there will be no shortage of people and situations for me to take offense at this year.
When Jesus was teaching about forgiveness in Luke 17, he said, "It is impossible but that offenses should come…". We live in a world full of the brokenness of sin, and sin hurts. Not only that, but we all make innocent mistakes, causing others pain even when we had zero intention of doing so.
There are likely hopes and dreams that won't come to pass this year, and I may be tempted to harbor bitterness against the people I see who seem to be enjoying the blessings I deeply long for but have not been given. Things that are good and right, making it difficult to understand why God's answer remains "no."
And I may have to walk through times of deep loss and sorrow or come alongside loved ones as they walk through dark valleys. In my grief, I may want to raise a clenched fist toward God, demanding why He has allowed such heartbreak.
As much as I might wish to, I cannot choose to have a painless, offense-free year. But I can choose what I do with my hurt, disappointments, and grief. And that choice will profoundly change the direction of my year and my life.
I can respond with mercy and grace toward those who have wronged me, misunderstood me, and disappointed me. I can quickly seek forgiveness when I have done the same to others. And as I release offenses to the One who sees and knows all and will set all things right in the fullness of time, my hands will be open to receive the boundless mercy and sustaining grace that I desperately need.
"Wherefore lift up the hands which hang down, and the feeble knees; And make straight paths for your feet, lest that which is lame be turned out of the way; but let it rather be healed. Follow peace with all men, and holiness, without which no man shall see the Lord: Looking diligently lest any man fail of the grace of God; lest any root of bitterness springing up trouble you, and thereby many be defiled;" (Hebrews 12:12- 15)
"Blessed are the merciful: for they shall obtain mercy." (Matthew 5:7)
Favorite
Biblical Encouragement Posts
Decision #3: Purposefully Seek God's Wisdom in all You Do
How often have I made my plans for the day, tagged on a little "Lord, please bless what I'm doing" prayer, and then forged ahead? On days when this is the case, it's little wonder the hours seem hollow, scattered, and tiresome. I need God's wisdom daily to navigate the maze of opportunities, demands, and responsibilities with a level head and a clear focus.
It can be especially easy for those of us who love to plan, set goals, and get things done to plow ahead with our agendas. Seeking the mind of God is often more of an afterthought than a desperate dependence on Him for direction for how to spend our moments wisely.
Many of us will seek God for wisdom for big, life-altering decisions, like taking a new job, considering a move, and deciding how to educate our children. But all the little seemingly insignificant stuff? Does it matter if we pray about those things?
Yes, it does! Seeking wisdom from God in seemingly insignificant decisions matters because all those small decisions make up the vast majority of our everyday lives. How we spend our days will determine how we spend our years and then our lives. The ordinary moments and small decisions matter!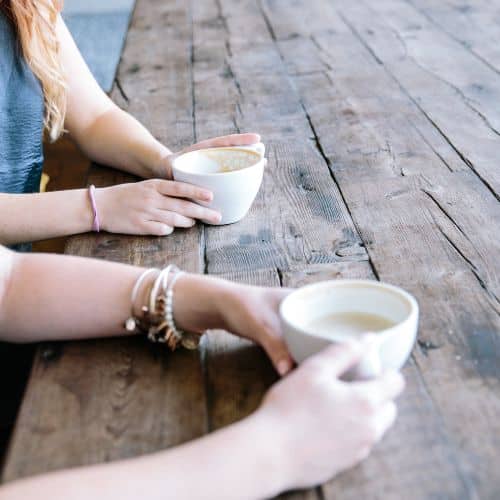 Join Our Monthly Newsletter
And get refreshment sent
straight to your inbox!
A simple prayer asking, "Lord, how do you want me to spend this day? What should I do first? What should I not do at all?" is a wonderful way to open a new day. We have the promise from God that He will give us generous heaps of wisdom when we ask for it with sincere hearts (see James 1:5).
Seeking wisdom throughout the day is one way we can obey God's command to "pray without ceasing." (1 Thessalonians 5:17). When we live in constant awareness of our need for Him to direct our steps, we will enjoy the blessing of consistent communication – and guidance – throughout the day.
"Trust in the LORD with all thine heart; and lean not unto thine own understanding. In all thy ways acknowledge him, and he shall direct thy paths. Be not wise in thine own eyes: fear the LORD, and depart from evil." (Proverbs 3:5-7).
"For this cause we also, since the day we heard it, do not cease to pray for you, and to desire that ye might be filled with the knowledge of his will in all wisdom and spiritual understanding; That ye might walk worthy of the Lord unto all pleasing, being fruitful in every good work, and increasing in the knowledge of God;" (Colossians 1:9-10).
Decision #4: Purposefully Delight in God's Good Gifts Today
How would your life look different if you woke up each morning eager to discover signs of God's love for you sprinkled throughout your day? Like stars in an inky black sky, they are there, but we often struggle to see them because distractions or discontent cloud our view. We are so focused on our endless to-do lists or so busy longing for the past or wishing for the future that we miss what is lovely right now.
When I turned 40 last year, my sister-in-law Clarissa surprised me with a huge box full of 40 individually wrapped gifts. I could open one gift a day for the 40 days leading up to my birthday. I kept the box beside my bed; it was so much fun waking up every morning and reaching for a gift to open! My boys loved getting in on the fun, too, often choosing and setting out a gift on my nightstand for me to open the next day. For those forty days, it was just that much easier to wake up every morning because I knew a gift was waiting to be opened!
God has gifted us with so many blessings to enjoy. From the beauty that He has weaved into all creation to our taste buds that can discern hundreds of delicious flavors. He's given many people the creativity to make beautiful music or beautiful artwork and the rest of us the capacity to enjoy those things.
He's given us the gift of laughter and friends to laugh with, minds to weave together inspiring words and tongues to form those words into sounds that bring life to the people we speak them to.
He's given us the joy of light from the shining sun, glowing candles, and twinkling stars. Books to read and people to snuggle with as we read them aloud. He's given us seasons and the reminder of God's faithfulness that the changing seasons bring. Flowers, trees, snowy trails, and legs that take us walking down wooded paths.
He's designed our ears to hear the whispers of a child, the sweet chirping of songbirds, and the rolling crash of thunder. He's given us noses that smell just – baked cookies, newly sprinkled rain, and freshly laundered clothes.
And that, dear friend, is just the shortlist. We didn't even discuss spiritual blessings like peace, courage, and hope, among many more! I encourage you to start your own list and pull it out whenever you need to remind yourself to delight in God's great love for you.
Though you may not have been given every one of these gifts, at least not today, you have been given many gifts. Even on your hard days – especially on your hard days – ask God to provide you with eyes to see his tokens of love and faithfulness. It has often been on the very hardest of days that God has been so kind to give me extra blessings that reassure me of His hand in my life.
Don't miss the joy of today's blessings because you are so focused on what you hope to be blessed with in the future or because you are grieving over what no longer is! Choose to wake up each morning excited for what gift awaits you today and watch with eager eyes for what God is doing on your behalf.
"O taste and see that the LORD is good: blessed is the man that trusteth in him." (Psalm 34:8)
"This is the day which the LORD hath made; we will rejoice and be glad in it." (Psalm 118:24)
"Every good gift and every perfect gift is from above, and cometh down from the Father of lights, with whom is no variableness, neither shadow of turning." (James 1:17)
Resources to Help You Grow
Do you want to go deeper in your walk with Christ? These books and resources will equip you to do just that, and when you shop through my Amazon affiliate links you can help support the work of this blog.
Now It's Your Turn
Whether or not you fill your planner with new goals and fresh resolutions this year, I hope you've been encouraged to make excellent choices today, tomorrow, and each day after that. Making great daily decisions will change your year as God enables you to become who He has created you to be and enjoy your life fully.
I'm so excited to see how God will work in and through each of our lives as we make purposeful decisions that draw our hearts closer to Him, free us from bitterness, ground us in wisdom, and allow us to delight in the blessings with which He has filled our everyday lives. Have a great year on purpose!
"Purposes, plans, and achievements of men may all disappear like yon cloud upon the mountain's summit; but, like the mountain itself, the things which are of God shall stand fast forever and ever."

C.H. Spurgeon
If you've been blessed through this post, please share it with a friend!